JAAF AND ART IN THE TIME OF THE COVID-19 PANDEMIC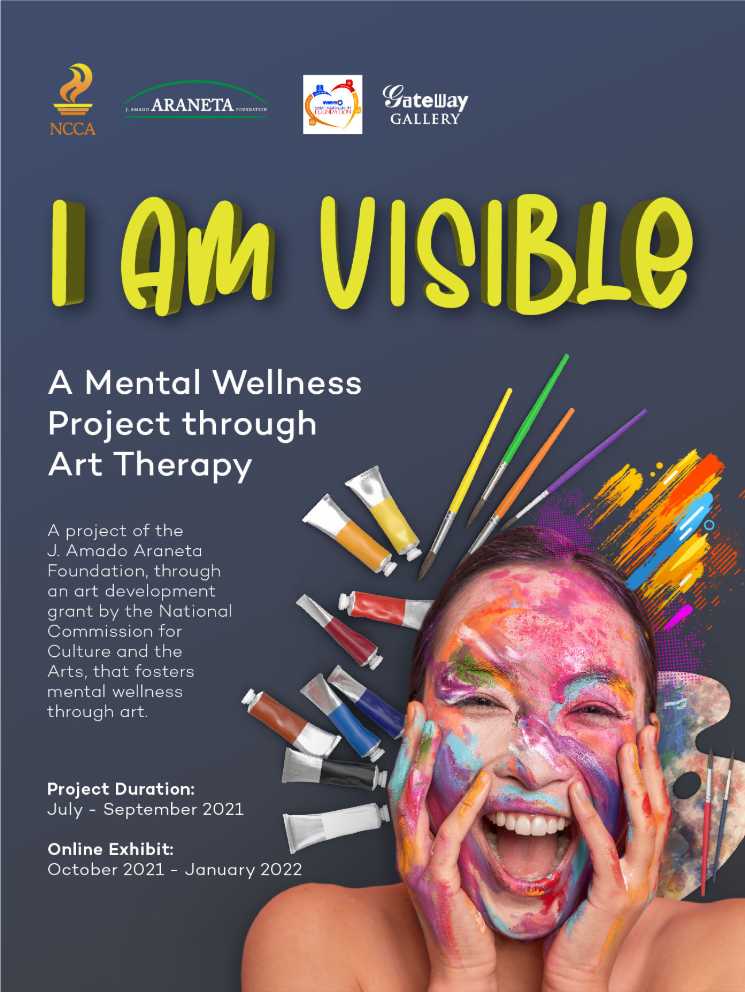 In response to the traumatizing effects of the Pandemic, the J. Amado Araneta Foundation, with a grant from the National Commission for Culture and the Arts, is conducting a series of online art therapy sessions to select participants from the youth, and medical frontliners sectors. The project, "I am Visible": Mental Wellness Through Art Therapy, started last August 7, 2021 with its first online session via zoom. Three more online art therapy sessions will be held on August 21, September 11, and September 18.
"I am Visible" aims to acknowledge the mental health crisis happening in the country today which is being exacerbated by the ongoing Pandemic. In the past year and a half, many Filipinos lost jobs, income, security, social contact, and more tragically, loved ones. Millions have been displaced economically, alienated physically, and have been forced to confront their biggest fears.
"I am Visible"'s objective is timely: to help identified participants lessen their mental and emotional distress brought on by the Covid-19 and the Pandemic. The Program will benefit 14 students and 11 medical frontliners, including community health workers and doctors. The student participants, who are select scholars of the JAAF, currently deal with alienation, stress, zoom fatigue, and depression with the current online class set-up. Doctors
and community health workers of Makati Medical Center and Quezon City LGU, on the other hand, have to deal with burnout, anxiety, and spiraling responsibilities with longer working hours and more hazardous work demands.
"This is one of the bold and major undertakings of JAAF for 2021. We have taken steps to help address a growing issue of the society – mental health. We have targeted vulnerable groups, which happen to be within our circle of influence, and even beyond. Even if Gateway Gallery is closed to the public, as a community art space, we find it our responsibility to reach out, in our capacity, to address this concern. JAAF, through Gateway Gallery, is proud of "I am Visible", " JAAF's Executive Director Diane Romero remarked.
J. Amado Araneta Foundation partners with the Makati Medical Center Foundation for "I am Visible", with the latter providing facilitators and identified doctor-participants. Joining the Program as art coaches are veteran artists Rene Canlas and Julius Legaspi, who will introduce the medium of drawing and painting: pencil, pastel, watercolor, and acrylic paints. Gateway Gallery, the art museum of Araneta City, spearheads the project, providing lead, administrative and logistical support.
The Program ends with an online exhibit to be launched on October 10, which is designated as World Mental Health Day. It will be curated by art teacher Jonah Mari Valenzuela, who has 15 years of art teaching experience with Xavier School Manila. The exhibit will be hosted by the Gateway Gallery website, and will open with a Curator's Talk via Facebook Live from JAAF and Gateway Gallery's Facebook pages. The exhibit will be up until January 10, 2022.
Most of the time, mental health problems are dismissed and swept under the rug. With "I am Visible", participants will have voices, be listened to, acknowledged, and made visible. With "I am Visible", mental health will be legitimized, discussed, and supported because healthy communities start with holistically-healthy individuals.