JAAF CELEBRATES WOMEN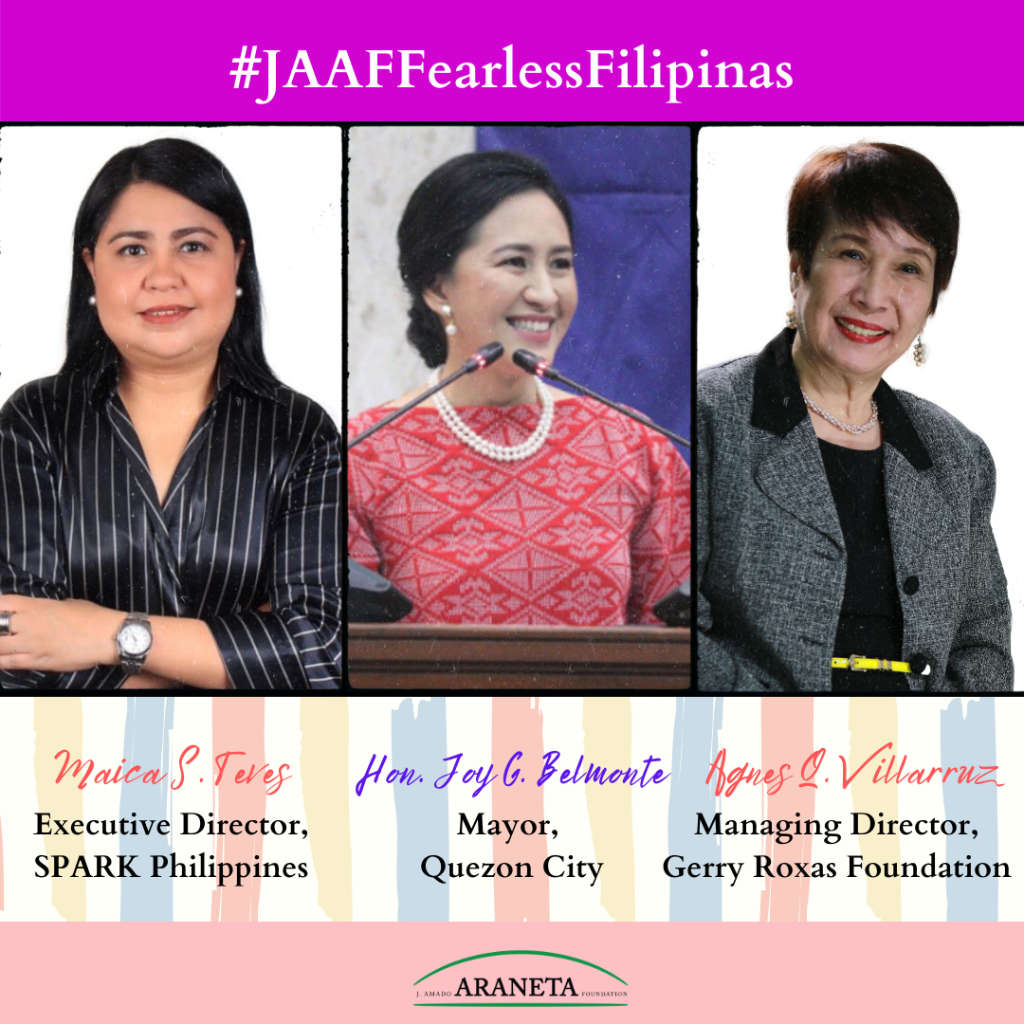 J. Amado Araneta Foundation (JAAF), the social development arm of the Araneta Group, celebrates and honors Fearless Filipinas. In celebration of International Women's Day last 8 March, JAAF featured six outstanding women for the whole week. We highlighted their advocacies, projects, and activities they have supported, undertaken, and planned. We asked them what it takes to be a #FearlessFilipina.
Our first Fearless Filipinas is MIKAELA LUISA CARMEN "MAICA" R. TEVES, the Executive Director of Samahan ng mga Pilipina para sa Reporma at Kaunlaran, Inc., or SPARK Philippines, an NGO working for women empowerment and gender equality. Maica has over 20 years of multisectoral managerial experience engaging with different stakeholders in government, civil society, and the private sector. She was selected in the 2020 cohort of women leaders in Southeast Asia. She is the winner of the Women of the Future Awards 2021. She was chosen to join the International Visitors Leadership Program (IVLP) in the United States in 2021. She sits as a Board Member of the Philippine Women's Economic Network.
JAAF has worked with SPARK Philippines on several projects involving women and improving their lives.
MA. JOSEFINA "JOY" BELMONTE is currently serving as the 11th elected Mayor of Quezon City since 2019. Mayor Belmonte believes that the success of the City lies in having trustworthy leadership, data and information-driven decision making, and an efficient and well-functioning government system that is worthy of the public trust. The Mayor's advocacies cover a broad spectrum. Still, they are primarily focused on protecting and upholding the rights of women and children, gender fairness, economic empowerment of women, mental health, culture, and the arts.
The Foundation has worked with the Quezon City Government, through the leadership of Mayor Belmonte, for special projects involving the health frontline workers, the community sewers, for its arts and culture programs, and a lot more.
Fearless Filipina AGNES QUIMBO VILLARRUZ is based in Roxas City. She manages the operations of Gerry Roxas Foundation (GRF) in the Visayas, its Managing Director. Through a journey of 73 years as an eldest of 8 siblings, almost 50 years as a wife, mother, and grandmother, plus more than three decades of social development work. She was also instrumental in the organization of the Capiz Women Inc. With more than 5,000 women volunteers for community development and the empowerment of more than 12,000 brave Barangay Justice Advocates, primarily women, resolving conflicts as Peace Counselors nationwide, Ms. Villarruz feels accomplished. "Fearless and steadfast to ensure family and community peace," she quipped.
GRF is one organization JAAF has supported for several years now, especially for its Leadership Development and Community Development Programs.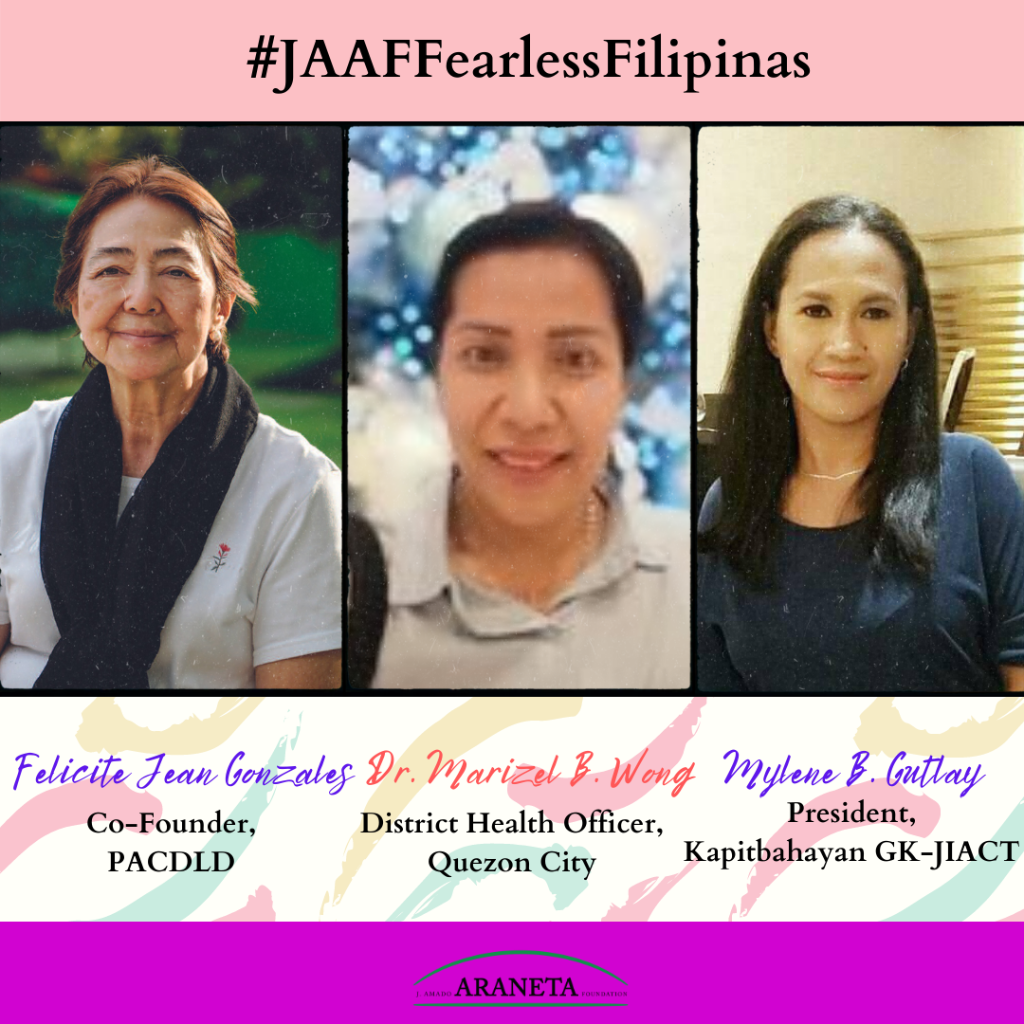 FELICITE JEAN GONZALES has a big heart for special people. She has been helping families cope with disabilities through a non-government organization she co-founded, the Philippine Association of Citizens with Developmental and Learning Disabilities (PACDLD). For her work and advocacies, Ms. Gonzales received the Jollibee Family Values Award 2014, the Model Parents Award in 2001, and the Ulirang Ina Award in 1996.
Through the years, J. Amado Araneta Foundation and Gateway Gallery have been supporting PACDLD for its advocacy campaigns in Araneta City.
DR. MARIZEL WONG is the epitome of strength and grace. She pursued Medical Science because she wanted to serve the people, especially the children. Even then, she envisioned helping and giving back to the Filipinos. For her, who is at the frontline, Dra. Wong had to endure long hours involved with Quezon City's District 3 health concerns. The COVID-19 vaccinations are another major project she has to oversee. With her able Health Team, she makes things work.
The Foundation is fortunate to have worked with the Quezon City District 3 Health Team, with Dra. Wong at the helm – from TB to COVID-19 response to onsite vaccinations.
MYLENE BINAMIRA GUTLAY is the President of the KapitBahayan ng Gawad Kalinga Araneta Village in Tanay, Rizal. Leader. Coordinator. Mother. Barangay Health Worker. If there is anything she aspires for, it is to be known as a community where everyone treats each other as neighbors – giving, caring, with the heart to be there for each other. She wants to empower everyone to help those in dire need when you have the means to share.
Gawad Kalinga – Julio Iglesias Araneta Center Tanay (GK-JIACT) is the adopted community of the J. Amado Araneta Foundation. It is home to 160 families, displaced and survivors of Typhoon Ondoy. Mylene and her family of 4 are one of them.