JAAF and Araneta City Open New Frontier Theater as Additional COVID Vaccination Site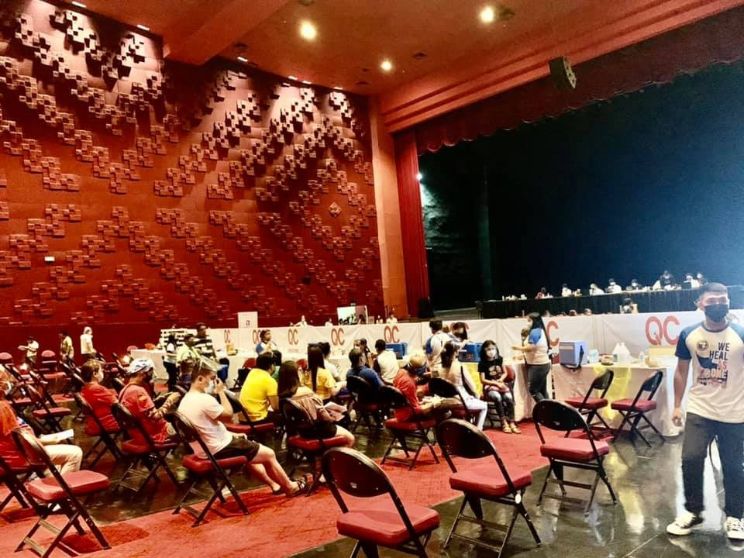 The New Frontier Theater in Araneta City will serve as an additional COVID-19 vaccination site for Quezon City residents from June 21 to 23, 2021.
Upon arrangements made by the J. Amado Araneta Foundation (JAAF), The Araneta Group, has added to the capabilities of the city government's inoculation program by offering for free the historic theater as an additional vaccination center.
According to JAAF Executive Director Diane Romero, this will further fast track the rollout of COVID-19 vaccines among Quezon City residents.
Located across the Gateway Tower, the New Frontier Theater can hold up to 1,000 to 1,500 vaccinations per day. Medical volunteers from the Quezon City Government and Health Department are fielded to properly manage the vaccination process.
Araneta City also fielded security personnel, ushers, and medical volunteers to ensure the fast and smooth vaccination implementation. Adequate ventilation system is in place, and stringent health measures are in effect within the theater premises.
Apart from the free jab, vaccinees will also get other treats in Araneta City. They simply have to show their vaccination card at the Gateway Mall concierge to claim freebies which include face masks and other essentials. Other stores in Araneta City also offers promos and discounts to vaccinees.
The 3-day vaccination at the New Frontier Theater supplements Quezon City's ongoing COVID inoculation in Araneta City. The distribution of vaccine at the Smart Araneta Coliseum continues from June 21 to 26, and from August 7 to 15.
Through JAAF, the Araneta Group also partnered with the city government in giving free RT-PCR tests for the general public, and with the Philippine Red Cross for the free use of the Araneta City BusPort as a drive-thru saliva test site.
Since the pandemic hit the country last year, the Araneta Group has put in place safety protocols to keep its businesses safe for its employees and customers with its slogan "Safety First at the City of Firsts".