JAAF AWARDS GRANTS FOR SPARK-A-CHANGE YOUTH-LED COMMUNITY DEVELOPMENT CHALLENGE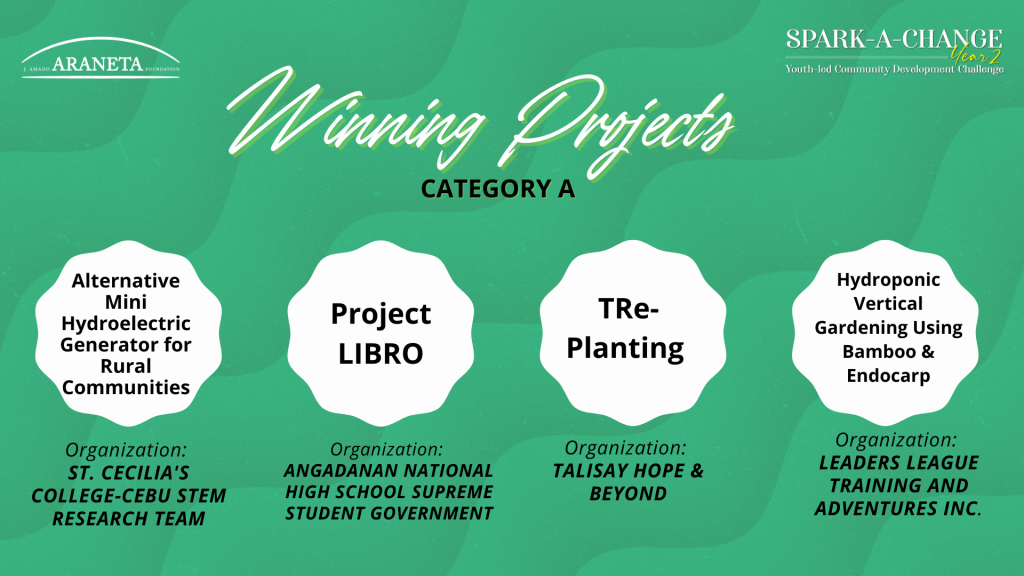 J. Amado Araneta Foundation (JAAF) launched Spark-a-Change, a youth-led community development challenge. This was aimed at creating pockets of positive social changes in different corners of the Philippines through the youth projects and, at the same time, investing in the development of the future generation of leaders.
The winners for 2022 were announced, with 8 Filipino youth organizations shortlisted to get grants for project implementation. There were four winners under Category A to receive Php5,000 grant, while the other four under Category B will receive Php20,000 grant.
Category A winners include:
1. Angadanan National High School Supreme Student Government for Project LIBRO (Librong Iaalay sa Bata, tulay sa Responsableng Pagbabasa, Oportunidad ay Matatamasa). The Project involves turnover of book that will benefit 250 students in Sinabbaran Elementary School, Angadanan West District, Sinabbaran Angadanan, Isabela.
2. Leaders League Training and Adventures Inc.'s project is Hydroponic Vertical Gardening using Bamboo & Endocarp. Starting July, a training session involving 20 families in Brgy. San Pedro, Morong, Rizal will be conducted. This is followed by seed donations and planting activities.
3. St. Cecilia's College-Cebu STEM Research Team's Alternative Mini Hydroelectric Generator for Rural Communities will deliver one enhanced prototype of the mini hydroelectric generator installed and turned-over to Barangay Cuanos in Minglanilla, Cebu.
4. Talisay Hope & Beyond does TRe-planting. The Project shall benefit approximately 30 households in the District of Talisay, Barangay Poblacion, General Mamerto Natividad, Nueva Ecija. Approximately 25 fruit-bearing trees will be rescued, with 25 youth volunteers mobilized, and 25 fruit-bearing trees replanted in the designated areas.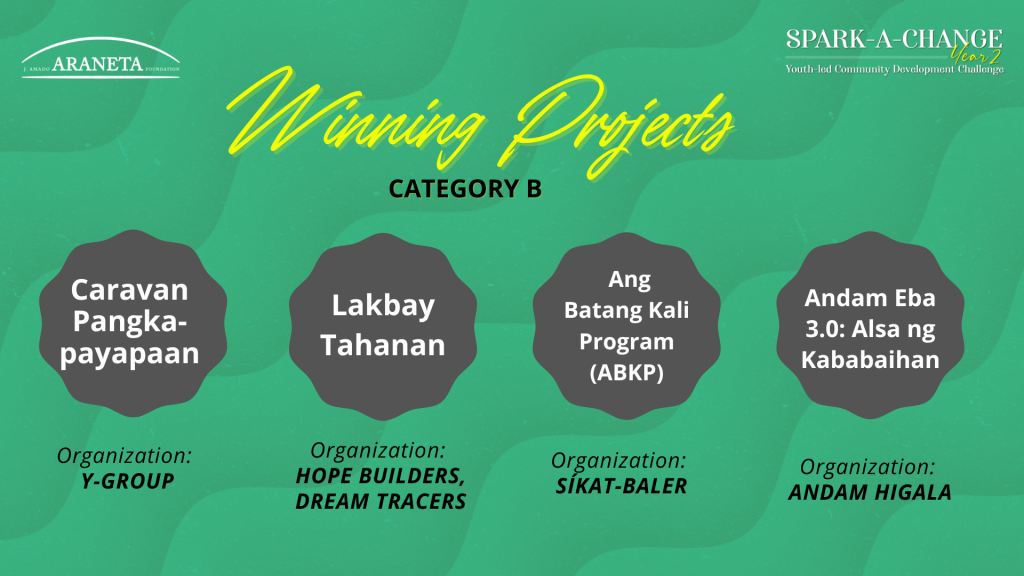 For Category B, the four organizations and their projects are:
1. Andam Higala, a Cagayan de Oro based organized, won for Andam Eba 3.0: Alsa ng Kababaihan project. It is a 6-month program that aims to financially capacitate the wives of quarrymen located at the riverside of Barangay Consolacion through a series of vocational skills training and business management development.
2. Hope Builders, Dream Tracers' Lakbay Tahanan is a house-to-house book borrowing program designed to foster children's reading at home. Project implementation is from July 20 to October 31, 2022 and will benefit a group of 100 struggling readers from Sitio Marawi in Brgy. Aplaya, Sta. Rosa, Laguna.
3. Sikat Baler has started with Ang Batang Kali Program (ABKP). It is a 3-day summer learning camp, life skills program, and a series of interactive, fun, and engaging workshops aimed at helping the youth ages 10-17 grow into protectors and stewards of nature. Implementation area is in Brgy. Dibut in San Luis, Aurora.
4. y-group will do Caravan Pangkapayapaan. The project will benefit traditional 1 Madrasah's Ustadh (teacher) and 1 Morit (students) from a certain municipality in Lanao del Sur and Marawi City. It will deliver Peace Education Curriculum Training among Madaris, with one scholarship grant for 1 Ustadh and 1 Morit interested and qualified to take the ALS.
In the words of Diane Romero, JAAF Executive Director: "Through Spark-a-Change, we hope to activate the youth in the development of their communities. We are overwhelmed with the project proposals sent. The winners are real standouts. We are glad we are able to plant seeds of community development in different parts of the country."