JAAF CELEBRATES THE CLASS OF 2022 SCHOLARS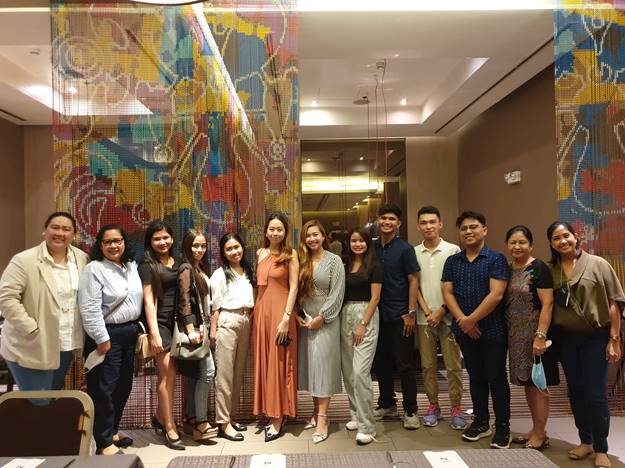 J. Amado Araneta Foundation celebrates the important milestone of its Scholars – college graduation!  In a dinner at Novotel Manila Araneta City last 26 August, the 10 scholars were the guests of honor, together with their parents.
The Class of 2022 college graduates are products of the Dare to Dream Scholarship, the Araneta Employee-Dependent Educational Assistance Program.  The circle of 10 included:
Adrian Abarca. BS Electronics Engineering, Polytechnic University of the Philippines
Rhina Mae Claridad. BS Business Administration Major In Management, Jose Rizal University
Rick Vincent Jeffrey Dela Cruz. BS Information Technology, Lyceum of the Philippines University
Jennylyn Frances Dugasan. BS Commerce And Business Administration Major In Business Economics, University of Santo Tomas
Alecs Andrea Feria. BSBA Financial Management, New Era University
Ian Emmanuel Rio. BS Information Technology, Quezon City University
Rubie Anne Garcia. BS Industrial Technology Major In Computer Engineering Technology, Batangas State university
Ruselle Ramos. BS Accounting Information System, Our Lady of Fatima University
Rizelle Mayela Severo.  BS Hospitality Management, Pamantasan ng Lungsod ng Maynila
Aj Nicole Silverio. BS Computer Science, ACLC College of Sta. Maria
It was a night of celebration, not only for the Scholars and the parents, but also to JAAF and the Human Resources Departments within the Araneta Group. In attendance were ACI, Inc.'s SVP for HR Janet Solsoloy, PPI VP for HR Rose Herrera, JAAF Executive Director Diane Romero, and Program Officer May Anne Geronimo.
JAAF wishes all the best to the graduates as they go onward to the direction of your dreams.  "May you continue to make the Araneta Group proud, dear Scholars," Diane Romero said.