JAAF, GRF, and GRLA, Inc. Work Together for YoVote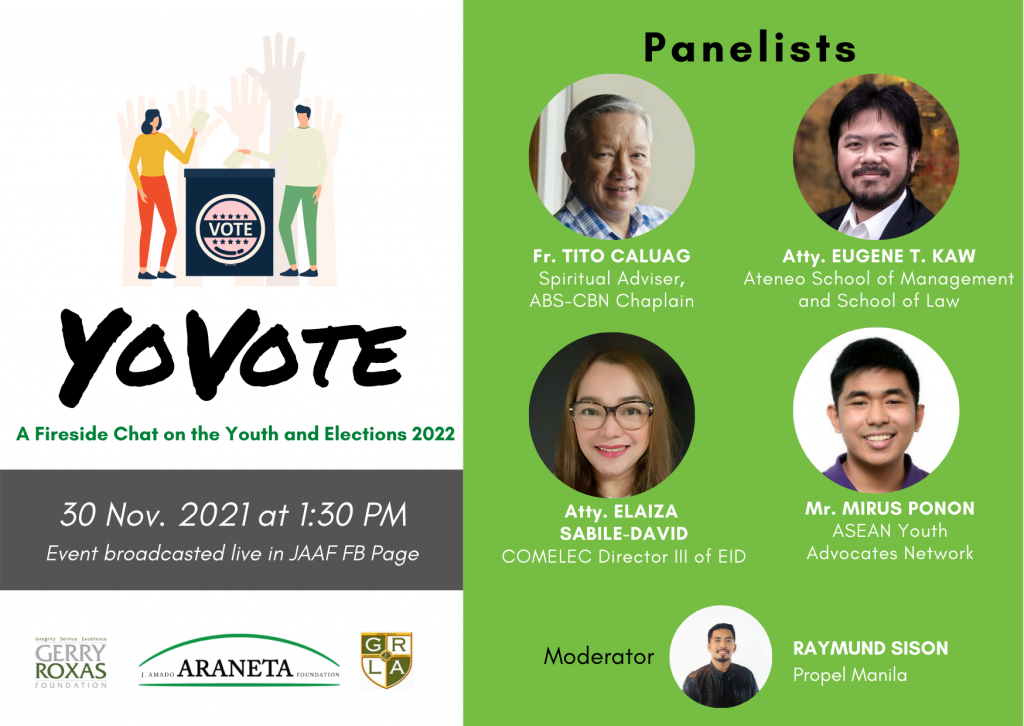 J. Amado Araneta Foundation works with the Gerry Roxas Foundation and Gerry Roxas Leadership Awardees, Inc. for a fireside chat on the topic of Elections 2022.  YoVote (short for Youth Vote) is scheduled for 30 November at 1:30 PM.  The primary audience will be JAAF Scholars, GRF Scholars, and GRLAs in the Zoom Room. The event will be broadcast live on JAAF Facebook Page.
The panelists will discuss their thoughts, experiences, and other relevant information to benefit the youth voting public.   The complete lineup and their topics to open the discussion are COMELEC Director III of the Education and Information Department Atty. ELAIZA SABILE-DAVID to discuss Voter's Education, Atty. EUGENE KAW of the Ateneo de Manila University School of Management and School of Law to talk about To Do and Not To Do: A Legal Context on the Role of Volunteers During the Campaign Period, spiritual adviser and ABS-CBN Chaplain Fr. TITO CALUAG will delve more on Morality, and Social Impact of the Elections and ASEAN Youth Advocates Network's MIRUS PONON will discuss Why is the Elections Important to the Youth.  YoVote will be moderated by RAYMUND SISON, Propel Manila's Creative Chief, a Gerry Roxas Leadership Awardee himself.
YoVote is part of JAAF's contribution in educating the Youth about the electoral process and what their votes can do. Executive Director Diane Romero shares her thoughts on this: "Now that they (the Youth) are part of creating history, we want them to approach the 2022 Elections with an open eye.   Every election creates a significant shift for our country.   We want them to know that they can contribute to that shift for their and the next generations' welfare.  The events leading to the upcoming Elections have already planted seeds of love for the country, as shown by the increasing youth participation. We hope to cultivate it further by creating a safe space for them to learn, discuss and act upon this pressing issue."
The convergence of 3 organizations to mount the fireside chat was made with the conscious effort to bring about what is good for the Youth.  JAAF, GRF, and GRLA, Inc. share a similar advocacy for Youth and education.  With the Elections 2022 looming, it is but high time for YoVote to happen.
GRF's Executive Director Glen de Castro was quoted in saying: "The Covid-19 pandemic has shown us, especially the Youth, how it feels to be denied of opportunities to express ourselves fully. Bawal ang hug, ang beso-beso, ang party, at kahit ang maingay after 10:00pm. It was so frustrating that mental health emerged as one of the major challenges among the Youth. Not participating in elections is tantamount to letting go of that freedom of expression as well. YoVote is our way of encouraging the Youth to see the coming elections as an opportunity to fully express their hopes, dreams, and aspirations – and to use their votes as their first step in achieving them."
Follow JAAF on social media for updates on YoVote.