PPEs for Quezon City frontliners donated by JAAF & Bb. Pilipinas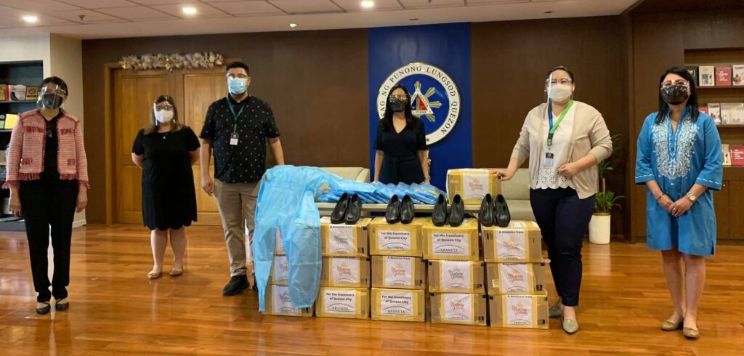 The J. Amado Araneta Foundation led the turnover of personal protective suits and shoes to Quezon City through Mayor Joy Belmonte. In a ceremony done on 7 January at the City Hall, Diane Romero, JAAF Executive Director gladly shared to the City Mayor that PPE suits are proudly made by Quezon City women.
Ten (10) women were selected and given free training sessions on the making of PPEs (personal protective equipment) under the Bayang Hinabi, a capability building project on Sewing Techniques and Pattern Making Workshop for the women of Barangay Greater Lagro and Barangay Sto. Cristo in Quezon City. JAAF, together with SPARK Philippines, DTI Philippines, aimed to empower the women participants by providing them with the necessary tools and skills to start their own livelihood.
The shoes were donated by Binibining Pilipinas Charities Inc., to complement the PPE suits.
In the photo during the formal turnover ceremony were (left to right) Elma Viray, Head of the Department of Trade and Industry National Capital Regional Office for Area 3, Mona Celine Yap, Officer in Charge of the Quezon City Small Business Cooperatives Development Promotions Office, Gines Enriquez, Binibining Pilipinas Charities Inc. Head, Quezon City Mayor Joy Belmonte, JAAF Executive Director Diane Romero and Maica Teves, SPARK Philippines Executive Director.
#JAAFXFrontliners
#JAAFXQuezonCity
#JAAFxQC
#JAAFxQCWomen